Vladislavs Tatarincevs
27 July 2009 16:47:57
I have notices, that when users move to 8.x and 8.5.x from 7.x, the biggest shock for them is interface.
Two things make them crazy most of all,
* Why unread Mail are not
RED
:), why they
bold
now
* selection of documents is less important but also, make them stress.
There is a check mark in Additional preference.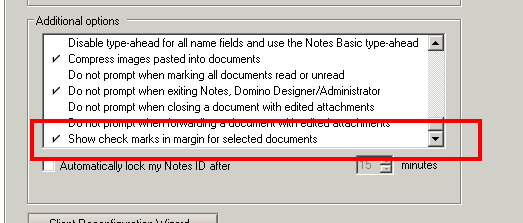 This will result a ViewCheckMarkSel=1 in notes.ini
Now in Domino 8.5, we have a very elegant way to add notes.ini parameters to Notes workstations,
http://vlaad.lv/lotus.nsf/dx/05092009111532PMSAMRRR.htm
So I think, this is the option that I would recommend to deploy to all users, by default, so that transition to new version is easier for users.
After deploying this parameter, you can check mails and documents old school way :)