Vladislavs Tatarincevs
17 December 2008 18:10:24
Many customers ask me, how to do REMOTE WIPE of stolen device in traveler, because all IT Security guys are very concerned about it.
In traveler 8.5, there is an additional database LotusTraveler.nsf located in root, which helps to manage remote devices.
In this View we see all the devices.
BTW, IT IS POSSIBLE to Lookup address book, don't know if it was in 8.0, but in 8.5, You can lookup, public address book,
that what many customers are asking. ;)
You can open record and see some valuable info like IMEI, if your phone is stolen you can block this IMEI and in this country nobody can use it,
may be only as alarm clock :D
I tested Traveler with my previous phone Nokia N80.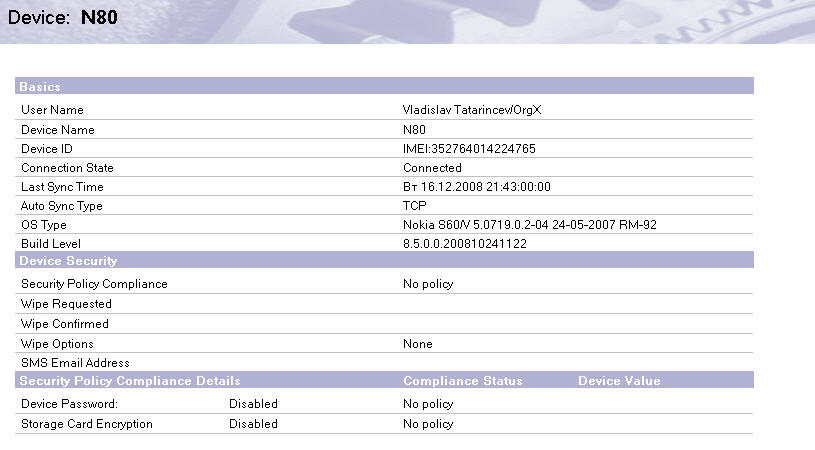 Here are couple of screen shots what you can do with Traveler.
There is additional SECURITY COMMANDs, you can lock any device from there.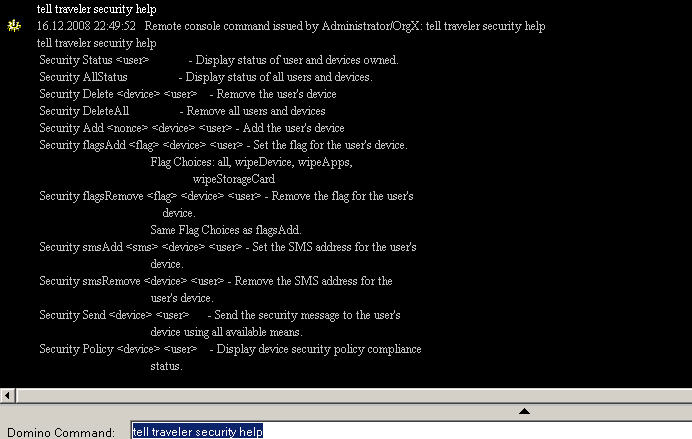 Ok, Lets try to WIPE a DEVICE.

It asks, what do DO!!!!
COOL, We can even wipe Storage card, and do HARD RESET, (kill address book).
This summer, I asked my blog readers to visit GOOGLE ADs banners, so I can buy Ducati Monster.
I have bought it, and when I ride it, on 185KM/h (115miles/h), lost my NOKIA E65, it jumped from my pocked (it Latvia we have special JUMPING NOKIA PHONES) at that moment I was sorry, that I don't have option to do remote WIPE.
Ok, back to Traveler, We can remove Traveler, we can format Storage card, which is NICE, and also do HARD RESET. :)
Cool, Lotus People, You are Great!
You can select one, two, or three options.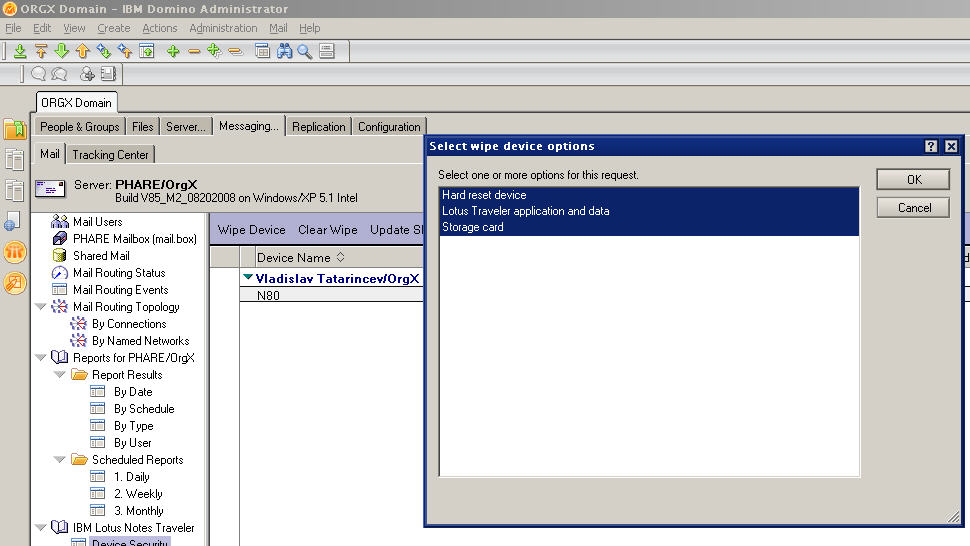 It seems that not all devices supports this feature, but big companies has policy, which devices, to use, so for example,
if device does not support remote WIPE, you may not want to install Traveler on it :)

Ok, don't forget to add IBM Lotus Notes Traveler/Lotus Notes Companion products to Users ECL ;) in Security Settings.
ok, WIPE request is created.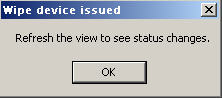 lets press F9 :)
If I change my mind, I can call back my request.

You can also see, which users are online :)