Vladislav Tatarincev
13 December 2009 16:46:28
After several month of using Traveler, I switched to SMS sync from TCP sync.
Advantage of using SMS over TCP is that:
* Phone connects to server when there is 100 new mail
* Longer battery life
* less GPRS traffic (my post here
http://www.vlaad.lv/lotus.nsf/dx/how-to-generate-less-traffic-with-lotus-traveler-and-extend-battery-life
How this actually works?
If you run Windows Mobile or Nokia S60, when a Mail arrives to Domino server, it send you a notification email, to address which is associated with you mobile phone,
for example
[email protected]
or any other local phone provider.
it arrives to a phone, like a hidden SMS, so you actually not notified that new SMS has arrived.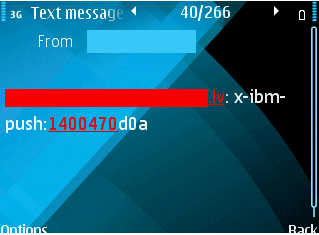 it also does not show in INBOX of your PHONE ;)
This SMS is an instruction to Lotus Traveler to Connect to server and pick up new mail.
not sure if SMS sync works on iPhone... but it really extends battery life on Nokia/Windows Mobile.